Guest Artists
Professional artists frequently visit MHS to perform for students, provide instruction & inspire our student musicians.
The Middleton High School Band & Orchestra program sincerely thanks its guest artists.
Jeremy Stolle - November 2, 2017
---
​
​Jeremy Stolle, who plays the Phantom in Phantom of the Opera on Broadway, talked with and sang for Middleton High School music and theater students and teachers last week. Mr. Stolle and his collaborative pianist and fellow musician and composer, Arri Simon, visited MHS on Thursday, November 2, 2017, while in Madison for a Cabaret performance. Mr. Stolle and Mr. Simon answered student questions in a very conversational style. Students asked for advice about auditions, dealing with nerves and rejection and preparation for seeking a career in music or theater. "There's music for the practice room. There's music for fun. Do it all," recommended Mr. Stolle. Students also asked more personal questions about how the two "made it," most embarrassing moments and life in New York City and on Broadway. The student audience was riveted as the two men answered. ​ Mr. Stolle had much to say about the value of music. "Music moves people. You can move people whether or not you get paid for it. Music is universal; you don't need to speak the same language." And in closing, he added, "Music is a companion. It's something we all share together." ​ After the hour-long conversation, Mr. Stolle asked, "Should we sing?" to resounding shouts of "Yes!" The two then sang a very well received song from the hit musical, Hamilton, "Dear Theodosia." The song portrays two fathers, Alexander Hamilton and Aaron Burr, singing to their children, Philip and Theodosia. ​ Following this song, Mr. Simon played and sang a song he composed for a musical he is currently writing. They ended the time at MHS with Mr. Stolle singing his song, Music of the Night, from Phantom of the Opera. At the end of an exquisitely beautiful performance, students jumped to their feet and applauded for several minutes. ​ MHS band and orchestra teachers and students met Mr. Stolle while in New York City in March 2017. Mr. Steve Kurr, MHS orchestra teacher, made arrangements for Mr. Stolle to visit MHS while Mr. Stolle was in the Madison area.
---
String Fever - February 6, 2018
---
Stringfever, the world's first genetically modified string quartet, appeared at the Performing Arts Center on Tuesday, Feb. 6, 2018. Stringfever features three brothers and a cousin on brightly colored 5 and 6 string violectras. Brothers Giles, Ralph and Neal Broadbent and their cousin Graham are world class musicians from England. They play five and six-stringed electric violins, viola and cello in a truly original show. MHS Symphony Orchestra students will had an opportunity to work with the Broadbents during the school day. The students joined Stringfever for one or two pieces to begin the second half of the show that evening.
---
Joseph Johnson - November 14, 2018
---
Joseph Johnson has been heard throughout the world as a soloist, chamber musician and educator. His festival appearances include performances in all classical genres at the American festivals of Santa Fe, Bach Dancing and Dynamite Society, Bard, Cactus Pear, Grand Teton, and Music in the Vineyards as well as the Pacific Music Festival in Sapporo, Japan, and the Virtuosi Festival in Brazil. ​ Highlights of Joseph Johnson's 2018/2019 season include concerto performances of the Brahms Double Concerto with Jonathan Crow and the Toronto Symphony Orchestra. Other concerto appearances include Tchaikovsky's Rococo Variations with the Kingston Symphony as well as the Wisconsin Youth Symphony in Madison, WI, and the North American Premiere of the Unsuk Chin Cello Concerto with the Esprit Orchestra. Recital and chamber music appearances this year include performances at the Faculty of Music Walter hall series at the University of Toronto, the Chatter series in Albuquerque, Santa Fe Chamber Music Festival, Mountain View Music in Calgary, Noon Concert series at the University of Toronto, the Chamber Players series in Toronto, Mainly Mozart Festival in San Diego, Maui Chamber Music, performances in Brockville, Oshawa, Beaver Creek Minimum Security Institution, and the Prince Edward County Chamber Music Festival in Picton, ON. ​ Principal cellist of the Toronto Symphony Orchestra since the 2009/2010 season, Mr. Johnson previously held the same position with the Milwaukee Symphony Orchestra. He also serves as principal cellist of the Santa Fe Opera, and during the 2008-2009 season, was acting principal cellist of the Honolulu Symphony Orchestra. Prior to his Milwaukee appointment, Joseph Johnson was a member of The Minnesota Orchestra cello section for eleven years, during which time he performed numerous chamber music works during the orchestra's Sommerfest, both as cellist and pianist. He was a founding member of both the Prospect Park Players and the Minneapolis Quartet, the latter of which was honoured with The McKnight Foundation Award in 2005. ​ A gifted and inspiring teacher, Mr. Johnson is Assistant Professor of Cello at the University of Toronto, the cello coach for the Toronto Youth Symphony, and regular coach and teacher at the New World Symphony in Miami. He has conducted numerous master classes for a wide range of institutions and ensembles, including The Shepherd School of Music at Rice University, Eastman School of Music, Manhattan School of Music, Northwestern University, the youth orchestras of the Milwaukee, Minneapolis, Chicago, and Toronto symphonies, as well as The Glenn Gould School of The Royal Conservatory of Music in Toronto. ​ A graduate of the Eastman School of Music, Joseph Johnson earned his master's degree from Northwestern University. Awards and honours include a performer's certificate from the Eastman School of Music and first prize from the American String Teachers Association National Solo Competition. ​ Mr. Johnson performs on a magnificent Paolo Castello cello crafted in Genoa in 1780. He uses Jarger Superior brand strings exclusively. Courtesy of www.JoeCello.com
---
UW - Eau Claire Wind Symphony - March 2019
---
UW-Eau Claire Wind Symphony performed a concert for MHS students and conducted a side-by-side music outreach event with the Chamber Wind Ensemble.

The Wind Symphony includes approximately 60 undergraduate student musicians who perform as a full wind symphony and as smaller chamber wind groups. The ensemble is comprised of the most outstanding wind and percussion majors in the Department of Music and Theatre Arts and gifted non-music majors who are selected by audition each semester. The group is dedicated to the performance of the finest wind repertoire, regardless of period or number of instrumental forces. Flexible instrumentation and player rotation provide members of the ensemble with a variety of responsibilities, challenges, and playing experiences. The ensemble provides members the opportunity to broaden performance and teaching skills by experiencing repertoire at the highest level. The Wind Symphony has performed at many regional, national, and international conferences including: Music Educators National Conference, College Band Directors National Association, Wisconsin State Music Conference, Minnesota Music Educators Association Midwinter Clinic, Illinois Music Educators Association Convention, National Band Association - Wisconsin Chapter Convention, and the International Tuba Euphonium Conference. The Wind Symphony frequently records for regional composers and music publishers including Daehn Publications and JPM Music. Dr. John R. Stewart, Conductor
---
Castle Singers and Kammerstreicher - March 7, 2019
---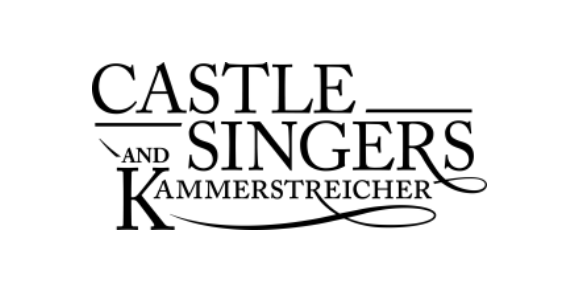 The Middleton High School Orchestra, welcomed the Wartburg College Castle Singers and Kammerstreicher. Students enjoyed a performance by the Wartburg choir and orchestra and had the unique opprotunity to perform with these ensembles. ​ ​ The Castle Singers, directed by Dr. Nicki Toliver, is a select chamber ensemble with a diverse repertoire ranging from jazz to classical. Called one of the "crown jewels of the Cedar Valley," the group has traveled to Europe, Australia, Fiji, the Caribbean, the United Arab Emirates, and Brazil. The Castle Singers have played the historic Blue Room in Kansas City, Dazzle in Denver, and the Jazz Club in Eisenach, Germany. ​ The Kammerstreicher is the Wartburg College chamber orchestra. Formed in 2014 by Dr. Daniel Kaplunas, the Kammerstreicher is now led by Dr. Jacob Tews, who also conducts the Wartburg Community Symphony Orchestra. The group is comprised of Wartburg students who pursue a variety of majors but have in common skills on violin, viola, cello, and bass. Repertoire for Kammerstreicher concerts is best described as "eclectic." Recent performances have featured Baroque and Classical works by Bach, Corelli, and Mozart, standard string orchestra pieces by Britten and Warlock, and arrangements of songs by the Beatles and Radiohead. The group even branches into the realm of improvisation, exploring jazz and bluegrass alongside contemporary classical improvisations and aleatoric music. Since the ensemble is chamber orchestra-sized, opportunities abound for student solos from within the group. While there have been chamber orchestras at the Wartburg throughout its history, the group became an official curricular ensemble in 2014. In 2016, members of the group agreed upon a name change as the orchestra continued its growth in on- and off-campus visibility. The new name is a nod to Wartburg's rich German heritage—Kammerstreicher means "chamber strings"—and also stems from a desire of the group to reshape expectations for what a chamber orchestra can be and do. The group, which stresses collaborative rehearsals—Dr. Tews even plays along with the group sometimes!—and a familial atmosphere, performs twice each semester, including participating in Christmas with Wartburg. Kammerstreicher joins with the Wartburg Castle Singers for their annual tours, with an upcoming (winter 2017) series of concerts from Iowa all the way to Florida.


---
Mark Wood presents Electrify Your Strings - May 10, 2019
---
From ElectrifyYourStrings.com The advantages of music education are well documented but support for these programs continues to face hurdles. Since 2001, Electrify Your Strings has provided unique solutions to these problems by working directly with schools to tailor programs to suit their needs, raise funds, and inspire students to succeed both in and out of music class. ​ Electrify Your Strings! (EYS) is a music education phenomenon that FIRES UP students, teachers, and local communities by injecting a high voltage dose of energy and much-needed funding into a school's music education program. This intensive experience boosts student self-esteem and motivation, increases school-wide, family and community engagement, and helps raise money for participating schools. Created by international recording artist, electric violinist, and music education advocate Mark Wood, EYS accomplishes this by having our team of teaching artists work with orchestra, choir, and band students to put on real life, real world rock concerts at their schools, local theaters, or arenas; with ticket sales directly benefiting the participating music departments. ​ The premise is simple – we work with school music directors to design a tailor-made rock orchestra makeover culminating in a live performance at the end of the experience. Profits from tickets sold to the event directly benefit the school's music programs. The musical selections are surprising – and include Wood's own compositions, plus his exclusive arrangements of classic rock and contemporary music. Wood and his team have also created an accompanying program for the school's choral and/or band departments, that can either be booked in conjunction with an orchestral visit or as stand-alone programs. ​ We seek to awaken student musicians to their highest potential, opening them up to the adventure of music. EYS transforms quiet young musicians into expressive people who can't wait to learn! Imagine a fifteen year old rushing to orchestra because he or she can't wait to play. Imagine an energized concert hall buzzing with anticipation for music played by these students. EYS makes this happen! ​ Over the span of a typical 2-3 day visit (tailored completely to YOUR needs), we coach students to express themselves fully through their music and let the world know who they really are! Visits range in size from school-centric events to large-scale extravaganzas that include music students from the entire school district. In its larger form, the final concert events have included upwards of 1,500 kids onstage performing in front of 15,000+ people. ​ This groundbreaking program has students, teachers, parents, and school administrators from around the country applauding and the media is taking note! Watch clips of EYS on The Today Show and the CBS Evening News or click on testimonials to hear directly from the students, parents, and school officials that have experienced EYS first hand.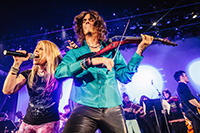 ---
Randy Sabien - March 9, 2020
---
From www.randysabien.com Randy Sabien is a bluesy, rockin', swingin', funky, jazz violinist. With an intensely rhythmic, vibrant and inventive style, he has captivated audiences worldwide, playing with scores of bands and musicians of all stripes. He was planning to be a drummer when he set out on his musical path, but fate stepped in when the conductor of the high school orchestra persuaded him to play the violin in fourth grade. So with a bow in his hand instead of drumsticks, he began studying classical violin by day and playing along to records of his favorite 60s rock bands by night. Having immersed himself in these two musical forms he went on to college hoping to further his musical education and the dream of playing and touring with a band. This is when lightening struck in the form of a vinyl record by legendary jazz violinist, Stephane Grappelli. Hearing Grappelli and the other virtuoso violinists from the swing era opened up a new world of possibilities which, after nine years of playing the violin, Randy never knew existed. Not only did he find his voice, he went on to create a place in education where this music would be a prominent part of the foundation for any aspiring string student who came his way. Only two years later at age 21, he founded and chaired the string department at Berklee College of Music in Boston. Since then he has gone on to teach internationally and is co-author, along with Bob Phillips, of the acclaimed Jazz Philharmonic Series, his teaching method for alternative strings -- available at Alfred Music Publishing. With Randy's growing reputation as a pioneer in modern string education, performances are almost always coupled with a workshop or a visit to a nearby string department. In fact, with more than 30 years of hands-on experience, he is reprising his role of starting a college level alternative string department. This time it's at McNally Smith College of Music in St Paul, Minnesota where his students receive Bachelor and Master degrees in alternative string education from an extraordinary working musician and a gifted teacher who's been there and back.
---
---